Welcome to Oilab Learning: Your Gateway to Mastering Google Ads in Jodhpur!
Are you looking to supercharge your digital marketing career or boost your business's online presence? Look no further! Oilab Learning brings you an exclusive Google Ads training in Jodhpur that will equip you with the skills and knowledge needed to harness the power of pay-per-click (PPC) advertising and achieve remarkable results.
Why Choose Oilab Learning for Google Ads Training?
Comprehensive PPC Certification Course In Jodhpur: Our Google Ads training program in Jodhpur offers a 100% PPC certification course designed to cover every aspect of Google Ads. From understanding the fundamentals to advanced strategies and optimization techniques, we leave no stone unturned in ensuring that you become a Google Ads expert.
Experienced Industry Experts: Learn from seasoned industry professionals who have hands-on experience in running successful Google Ads campaigns. Our trainers bring a wealth of knowledge and expertise to the table, sharing practical insights and real-world examples that will help you excel in your Google Ads endeavors.
Practical Approach: At Oilab Learning, we believe in learning by doing. Our Google Ads training in Jodhpur is highly interactive, with plenty of hands-on exercises, case studies, and live projects to ensure that you gain practical experience. You will create, optimize, and manage actual Google Ads campaigns, honing your skills and boosting your confidence.
Customized Curriculum: We understand that every participant has unique requirements and goals. That's why our Google Ads training Certification in Jodhpur offers a customized curriculum that caters to both beginners and experienced professionals. Whether you're starting from scratch or looking to enhance your existing knowledge, our course will meet your needs.
100% Job Assistance: Upon successful completion of the Google Ads Course In Jodhpur program, we provide dedicated job assistance to help you kickstart or advance your career. Our extensive network of industry connections and recruitment partners ensures that you have access to relevant job opportunities and placement support.
State-of-the-Art Learning Environment: Oilab Learning boasts a modern and conducive learning environment equipped with the latest technology and resources. Our training center in Jodhpur is designed to facilitate an immersive learning experience, allowing you to focus on acquiring the skills needed to excel in Google Ads.
Ongoing Support and Updates: As the digital landscape evolves, so do Google Ads and PPC strategies. We understand the importance of staying updated with the latest trends and changes. That's why, even after completing the training program, you'll continue to receive ongoing support, access to updated course materials, and invitations to exclusive workshops and webinars.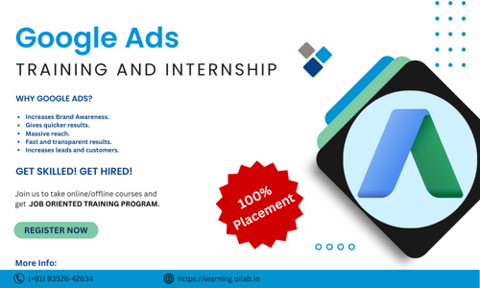 Enroll Today and Unlock the Power of Google Ads!
Don't miss this opportunity to become a certified Google Ads professional and drive exceptional results for yourself or your business. Take the first step towards achieving your digital marketing goals by enrolling in Oilab Learning's Google Ads training in Jodhpur. Invest in your future, and let us empower you with the knowledge and skills needed to succeed in the dynamic world of PPC advertising.
Social Media Marketing Training In Jodhpur From Oilab Unlock the Power of Social Media Marketing with Oilab Learning in Jodhpur
In today's digital era, social media has transformed the way businesses connect with their audience. With billions of active users worldwide, platforms like Facebook, Instagram, Twitter, and LinkedIn have become essential marketing channels for brands seeking to increase their online presence and drive business growth. If you're in Jodhpur and looking to harness the potential of social media marketing, look no further than Oilab Learning.
Oilab Learning offers comprehensive social media marketing training in Jodhpur, designed to equip individuals and businesses with the knowledge and skills required to navigate the dynamic landscape of social media. Whether you're a budding digital marketer or an entrepreneur looking to leverage social media for your business, our training program is tailored to meet your needs.
Why Choose Oilab Learning for Social Media Marketing Course In Jodhpur?
Expert Trainers with Industry Experience: Our training program is conducted by seasoned industry professionals who possess extensive experience in social media marketing. They bring real-world insights and practical knowledge to the classroom, empowering you with the skills needed to excel in social media marketing.
Comprehensive Curriculum: Our social media marketing training in Jodhpur covers a wide range of topics, including social media strategy development, content creation and curation, community management, social media advertising, analytics, and more. The comprehensive curriculum ensures that you gain a holistic understanding of social media marketing and its various facets.
Hands-on Learning Approach: At Oilab Learning, we believe in experiential learning. Our training program provides ample opportunities for hands-on practice, allowing you to apply the concepts learned in real-world scenarios. From crafting engaging social media content to running targeted ad campaigns, you'll gain practical experience to boost your confidence and expertise.
Customized Training Solutions: We understand that each individual and business has unique requirements. That's why our Social Media Marketing Course In Jodhpur? offers customized solutions to cater to your specific goals and objectives. Whether you're a beginner or an experienced marketer, we adapt our training to suit your skill level and help you achieve your desired outcomes.
Stay Updated with Latest Trends: Social media platforms constantly evolve, and staying up to date with the latest trends and best practices is crucial. At Oilab Learning, we provide you with the most current insights and knowledge, ensuring that you stay ahead of the curve. Our trainers share industry updates and equip you with the tools to adapt your strategies accordingly.
Networking Opportunities: By joining our social media marketing training program, you'll become part of a vibrant community of like-minded individuals and professionals. The training sessions offer networking opportunities, allowing you to connect with peers, share ideas, and foster collaborations that can further enhance your social media marketing journey.
Ongoing Support and Resources: We believe in nurturing your growth even after the training program ends. At Oilab Learning, we provide ongoing support, access to resources, and updates on emerging trends in social media marketing. You'll have the tools and knowledge to continue honing your skills and achieving success long after completing the training.
Course Features
Duration:4 Months
Inership:2 Months
Placement:Yes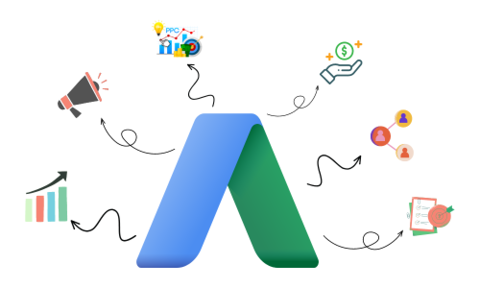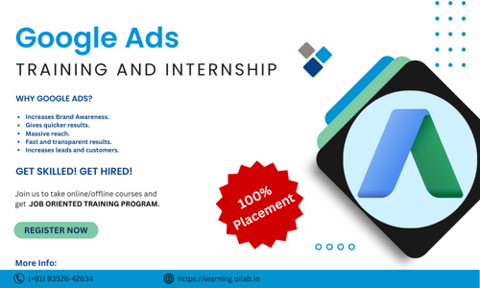 Course Circullum
Module 1
Introduction to Google Ads
Google Search Ads
Google Display Ads
Remarketing Ads
Running YouTube Ads
Running App Install Ads
Google Ads Settings
Running Call Only Ads
Types of Audience in Google Ads
Conversion-based Ad Campaigns