Android App Development Training in Jodhpur & Android App Development Course In Jodhpur
We are providing Android app development training online. Both front-end and back-end training will be provided. Students who want to build a career online and want to get maximum knowledge, welcome here.
Android is now the top software for all smartphones. It is open-source software, and can do many things with that as well. But to learn these things in the right way, you need proper guidance. You can Join OILab Learning in jodhpur to kick start your career.
Benefits You Can Have From OILablearning
Get full training on Android from experts.
You can get a placement at the end of the course.
All the things here are explained to students in a detailed manner.
They assign you many practical things so that you can get practical knowledge.
Android certification Training
Accelerate your move toward a career in mobile app development. Learn to build simple Android apps with our Android Basics in OILab training. Then, take the Android Developer Certification exam to gain recognition for your skills as a developer.

Why Join OILab Learning
100% Guaranteed Job
100% Guaranteed job in MNC, best company. Pay 0 fees and Study after Placement.
Course Features
Duration:03 Months
Skill Level:Beginner
Assessment:Yes
Certificates:Yes
Cource fees:30000 INR
Why OILab Learning Jodhpur ?
We provide both Online and Offline classes in Jodhpur : Develop skills for real career growth,cutting-edge curriculum designed in guidance with industry and academia to develop job-ready skills.
Learn from experts who are active in their field, not out-of-touch trainers : Leading practitioners who bring current best practices and case studies to sessions that fit into your work schedule.
Learn by working on real-world problems : It involving real world data sets with virtual labs for hands-on learning.Structured guidance ensuring learning never stops , 24x7 learning support from mentors and a community of like-minded peers to resolve any conceptual doubts
Honest Training resources in Jodhpur
Android Development for Beginners- An easy and beginner friendly course developed by Google to learn the basics and fundamental concepts of Android development quickly.
Android Development with Android Studio- Simple, easy and a complete guide for all beginner-level Android developers willing to develop their first Android app.
Learn Kotlin for Developers
Java to Kotlin Pathway - If you already know Java, this short pathway provides you with a set of Kotlin codelabs to show you the basics of Kotlin and how it is interopatable in java.
Kaitlin boot camp for java- For a more extensive introduction to the kotlin programming language.
Cross-platform app development is prevalent in the diverse and cut-throat mobile app development platform market. If developing a mobile app is the first thing that comes to entrepreneurship, cross-platform development is the first ladder towards business goals. So, is it easy to make an app?
By Cross-platform app development, enterprises across industries produce the most popular applications for Android and mark their presence in the Android-centric smartphone market and iOS development. So, move onto the list of the best cross-platform mobile app development tools to go for in 2022
React Native - React Native allows you to create native applications and uses JavaScript as a programming language to build apps. The strong side of React Native is that you can write modules in languages such as C, Swift, and Java.
The best part of this tool is working on image editing and video processing that aren't possible with the other API frameworks.
Flutter Training- Flutter is an (SDK) allows you to run high-performance applications on various platforms such as iOS, Android, Web, and desktop from a single codebase. Quite enough to make it viable for cross-platform mobile app development services in enterprises. Google created this open-source UI SDK, initially released in May 2017.
It uses Dart programming language as it is easy to understand for JavaScript or Java developers; it helps most object-oriented notions. However, if you want to develop a custom application for iOS & Android platforms, Flutter app development will suit your cross-platform ambitions also.
Work closely with experts on live projects
OILab learning will help you sharpen your interview skills.
Career Scope after Android Training in Jodhpur at OILab Learning
Growth as an Android Development Engineer is very good in India. The development of android started before certain years and demand kept increasing.
A passion for exploring and understanding the technicalities behind enticing, user friendly, and problem-solving apps, could be easily converted into an employable skill through Advanced Android app development training. Noticing the growing popularity of mobile apps among users, mastering app development skills would certainly guarantee your employability and bring a gamut of career opportunities to choose from.
In-demand skills for Android app development
For constant career growth in the field of Android app development, proficiency in technical skills is a must. Knowledge of Kotlin (or Java programming language) and its components including variables and operators, strings, functions and arrays, conditions, loops and lists, and understanding of errors and exceptions, inheritance and interfaces, and classes in Kotlin is important.
Start learning Android Development with OILab Learning in Jodhpur.
Job Opportunities in Android Development
OILab provides 100% Guaranteed placement after completing the course. They have tied up with top companies and MNC to get it.
Let's understand about Android Development. An Android developer is responsible for developing applications for devices powered by the Android operating system. Due to the fragmentation of this ecosystem, an Android developer must pay special attention to the application's compatibility with multiple versions of Android and device types. They must also have a strong understanding of the patterns and practices that revolve around such a platform.
Join OILab and get the best out of your efforts.
Let's understand why should we learn Android Development
Let's first understand the Reasons to Learn Android Development in 2022
It is an Open Source Technology - Android is an Open Source operating system. It is a Linux-based mobile operating system that makes the source code freely available for anyone to use. The Linux kernel that is used in Android is covered under the GPL. It means that any changes made to the source code must be made available when a binary (a compiled and executable piece of software) is released to the public.
Huge Device Market Share - Android has been the best-selling mobile operating system worldwide in the last decade. However, it is not just a smartphone OS anymore. It powers many other things, like Android Wear, e-Readers, Google Glass, and Android TV. For all of these devices, the development fundamentals are pretty much the same as they all are powered by Android.
Easier Entry to Market - To build an Android app, all you need to do is register yourself as a developer, create your APK (Android Package Kit), and submit it to the Android mobile application development platform. This process is much simpler than getting yourself registered on the iOS platform. Wondering why? Well… Because the process of getting approval from Apple is much more complex and involves many steps.
Numerous & Variety of Job Opportunities to Choose from - With the Android market growing rapidly, the job opportunities for Android Developers are also increasing. So if you want to take Android Development as a career option, then you can easily get a good salary package in this industry.
Easy to Learn -Android development mainly requires knowledge of Java Programming Language. Considered as one of the easiest coding languages to learn, Java is many developers first exposure to the principles of Object-Oriented design. If you have a fair knowledge of Java, then you can easily create successful Android applications.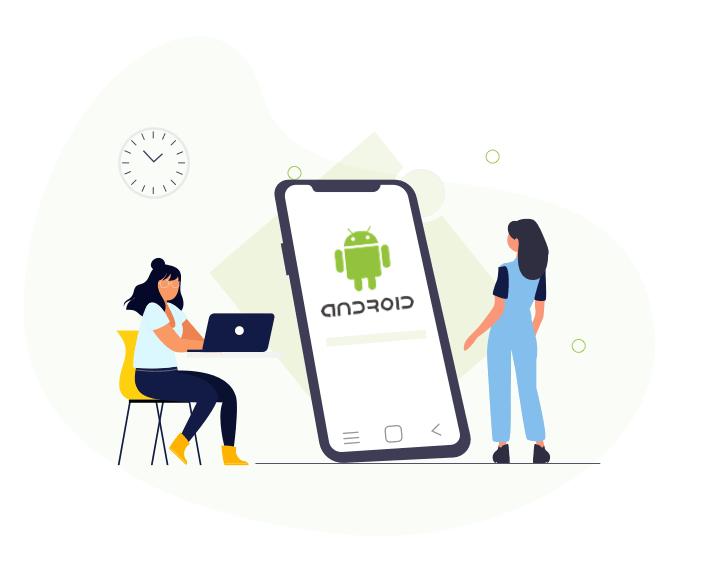 Course Circullum
Introduction to Android
Android Architecture
Development Environment
Application Fundamentals
Basic GUI Programming
Intents and Intent Filters
Content Provider
Broadcast Receiver
Network Programming
Multimedia Programming
Location Based Services
Android Telephony API
Bluetooth
Sensors
WiFi
Android Animation Effects
Using Gesture & Sliding
Google Map
Custom Layout